Some of these are our favorites. Some of these are new discoveries.
All are higly recommended any night of the week!
This I made for the first time last night, it is healthy and delicious! Definetly going to make this one of our regulars! I wish I'd taken pictures because in addition to being healthy and yummy- it looks really nice too!
Whole-Wheat Pasta with Garlic and Olive Oil
Ingredients:
2 tsp course salt

1lb whole-wheat linguine

1/3c e.v.o.o.

4 garlic cloves

1/2 tsp crushed red pepper flakes

1/3c fresh flat leaf parsley, chopped, plus more for sprinnkling

zest of 1lrg lemon
Directions:
Bring a large pot of water to a boil; add the pasta (we used Nature's Promise Organic whole wheat pasta from Stop and Shop) Return to a boil cook according to package instructions until al dente (about 11mins). Drain

Meanwhile, heat oil in a large skillet over medium-low heat until hot but not smoking. Add garlic, and cook, stirring constantly, until golden apprx 3 mins. Stir in red peppers and parsely. Remove from heat.

Add pasta and salt to skillet. Toss to well-coat pasta. Transfer to a bowl and sprinkle with zest and more parsley.
Per serving 380 calories, 14g fat, 0mg cholesterol, 58g carbs, 11g protein, 10g fiber (From Martha Stewart Living online)
Caprese Pizza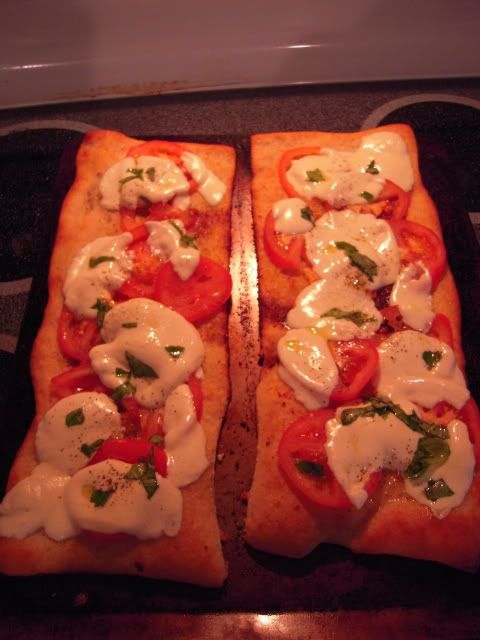 * Use Pillsbury refrigerated pizza crust
Toppings:
3 medium vine-ripened tomatoes

1 tsp salt

2 tbsp chopped fresh basil

1 tbsp basil oil (basil and e.v.o.o.) or plain e.v.o.o.

8 oz fresh mozzarella cheese

coarsely ground black pepper
Crust
1 tsp plus 1tbsp Basil Oil or E.V.O.O., divided

1 pkg refrigerated pizza crust

1 clove garlic

1 oz Parmesan cheese
Directions:
Preheat oven 425. For toppings, slice tomatoes into 1/4" slices. Place on paper towel-lined cutting board. sprinkle both sides evenly with salt, let stand 15mins

For crusts, lightly brush over dough basil e.v.o.o. and spread garlic. Sprinkle parmesan cheese over dough.

cut dough lengthwise into half or thirds and seperate on baking sheet. Bake 11-12 minss or until bottom of crusts are light golden brown

Chop basil combine with e.v.o.o.

Blot tomatoes w/ paper towels. Slice mozzarella cheese into 1/4" thick slices. Arrange tomato and cheese slices in overlapping rows on baked crusts. Return to oven; bake an additional 4-5mins or just until cheese melts

Remove from oven. To serve, brush basil mixture over pizzas and sprinkle w/ black pepper
Lemon Chicken with Mint
Prep Time: 15 mins
Cook Time: 40-45 mins
Ingredients:
4 bone-in chicken breasts

zest and juice of 1 lemon

1/2c flour

1 1/2tsp salt

1/2 tsp fresh ground black pepper

1/2 tsp paprika

4 tbsp olive oil

2 tbsp brown sugar

1 lemon sliced

1c chx broth

two 4" sprigs fresh mint
Directions:
preheat oven 375. Spray a 10x14" ceramic baking dish with non-stick spray
Drizzle chicken with lemon juice. Place the flour, salt, pepper, and paprika in a gallon size ziploc bag. Add chicken and toss
In a skillet over med heat add the oil. Add the chicken and sear until golden brown on both sides (apprx 10 mins). Arrange cooked chicken in baking dish and sprinkle w/ lemon zest and brown sugar. Place a slice of lemon on each piece, the pour the broth over the chicken. Place the mint sprigs on top
Bake 40-45mins uncovered until the juices run clear. Discard mint and serve hot
(from "Not Your Mother's Weeknight Cooking")