Tuesday, July 14, 2009
Posted by

Rocco the BT
at 8:04 PM
No comments:

This is how Boston Terriers help to "Go Green". Just think how much water and energy we can save using the BT Dishwasher.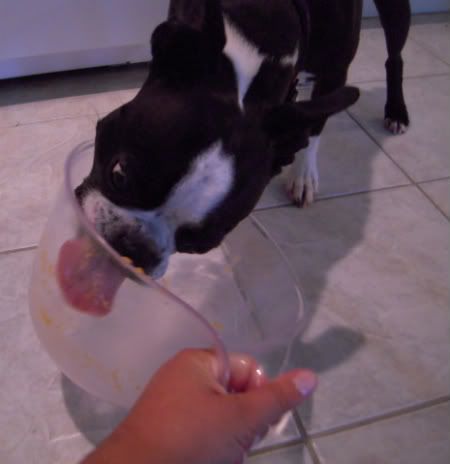 We're thinking about renting them out to local restaurants so they can help out, times are tough ;)
Posted by

Rocco the BT
at 7:35 PM
No comments:

Posted by

Rocco the BT
at 4:23 PM
No comments:

Sunday, July 12, 2009
We tried this for the first time tonight, it was DELICIOUS, inexpensive, quick, and a perfect summer flavor. I could not find Halibut on Peapod so I substituted Haddock. This recipe reminds me of my Mom and Dad, I think they would love it with a nice cold Corona and Heinekein, respectively. I served it with nice cold watermelon, whole wheat rice pilaf, and locally grown corn (the recipe book recommends a fresh baguette and a big green salad with tomatoes as sides).
COOKING METHOD: Stovetop and Oven
PREP TIME: 10 mins
COOK TIME: About 10 mins
Chipotle-Lime Butter
(2) small cloves garlic
(1) lime- strips of zest and juice
(2) small chipotle chiles in adobo sauce
(2 tbl) fresh cilantro leaves
(1 stick) organic butter, softened
(2 tbl) lime juice
(2 tsp) honey
(1 tsp) salt
Halibut or haddock
Salt and fresh ground black or white pepper
(4 tbl) e.v.o.o.
1.) Preheat oven 400F
2.) Mix together garlic and lime zest. Add chiles and cilantro. Add butter, lime juice, honey, and salt- mix well (Do not over process, the butter should be fluffy) Set aside
3.) Sprinkle both sides of the fish with salt and pepper. Add e.v.o.o. to pan, heat on high heat til very hot. Turn down heat to med high and add fish- Sear 2-3 mins - do not touch filets. Sear both sides.
4.) Use a cookie sheet, spray with nonstick (I used aluminium foil too for easy clean up) put fish on cookie sheet. Divide chipotle butter evenly among fish pieces. BAKE 7 mins or until fish loses its transparency (Butter will act as glaze) SERVE IMMEDIATELY
Posted by

Rocco the BT
at 7:29 PM
No comments:

Dexter can't keep his tongue in
Handsome, sweet Goobie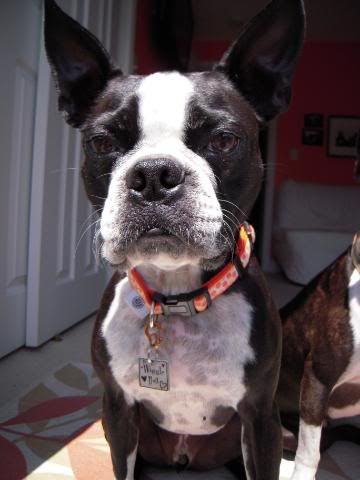 Funny faces
Rocco's all done posing and wants his Slim Jim bribe
Rocco enjoying his new bean bag chair in the sunshine
The Goob is a flirt
THE END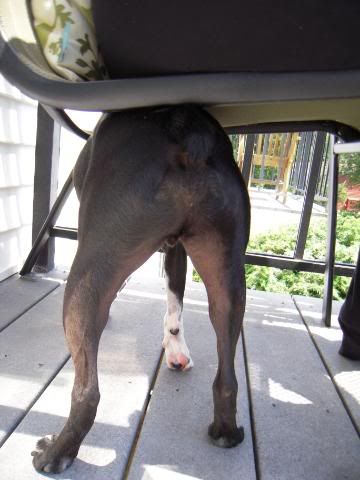 Posted by

Rocco the BT
at 4:07 PM
1 comment: